Chad N. Anderson D.C.
Chiropractic Physician
Dr. Anderson was born and raised in Cincinnati, Ohio, where the majority of his family still resides today. He began his collegiate studies at The Ohio State University before transferring to The University of Cincinnati, where he earned a Bachelor of Science in Education degree with an emphasis in Exercise and Fitness. Dr. Anderson spent time as a strength and conditioning intern at Xavier University where he was responsible for supervising the weight room, maintaining the day-to-day operations of the facility, and developing and instructing strength and conditioning programs for the athletes. Eager to better himself and continue his education, Dr. Anderson moved to Florida to study chiropractic medicine at Palmer College of Chiropractic, Florida Campus. While at Palmer, hard work and dedication earned him a place on the Dean's and President's Lists before graduating with Cum Laude Honors.
During his time in Florida, Dr. Anderson met his wife, Erica, with whom he later moved to North Carolina. He teamed up with Miller Chiropractic Group and provided his services to patients throughout the eastern part of the state. Dr. Anderson treated patients in Rocky Mount, Edenton, Plymouth, Edgecombe, Tarboro, and Nashville; he was also asked to extend his services to patients at a sister office in Burlington.
In 2009 the Andersons decided to move to the quaint, yet fast growing, town of Holly Springs. The two of them along with their daughter, Alexandra, son, Alaric, and Jack Russell Terriers, Tanner and Porscha are thrilled to call this beautiful town their home. After sharing knowledge with patients across North Carolina, Dr. Anderson is now pleased to provide his expertise to the residents of Holly Springs and surrounding communities.
Todd H. Farishian D.C.
Chiropractic Physician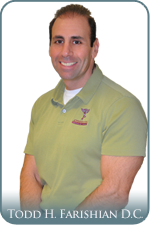 Dr. Farishian has been living in Holly Springs, North Carolina with his wife and three children since 2007. He moved from Long Island, New York where he practiced in New York City's famous Empire State Building. At Midtown Medical he worked side-by-side with multiple disciplines of medicine in order to provide a team approach for patient healing.
Dr. Farishian attended Adelphi University in Garden City, NY where he received a Biology degree with Dean's list recognition. Immediately following his undergraduate studies, he attended Life Chiropractic College in Marietta, Georgia; there he received his Doctor of Chiropractic degree and again achieved Dean's List recognition.
He has been a licensed Chiropractic Physician for nearly 25 years. He is Board Certified and holds licensure in the following states: New York, Pennsylvania, Virginia, Georgia, and North Carolina. Dr. Farishian's interest includes weight training, running, swimming, football, baseball, classic automobiles and coaching locally at the Holly Springs Parks and Recreation facility.
Alexander J. Portner D.C.
Chiropractic Physician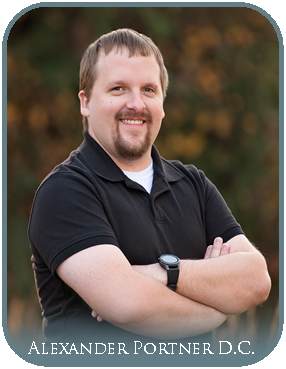 Dr. Portner grew up in Pennsylvania; his family moved frequently, but he spent most of his early childhood in the Bloomsburg area and his later childhood in the Harrisburg area. He met his wife, Elizabeth, while doing volunteer work at a summer camp near Hershey Park.
Dr. Portner became interested in chiropractic care at a young age. He was treated by a chiropractor for severe asthma as a child and was later given the opportunity to shadow a chiropractor. There he witnessed an older woman come into the office, hunched over, hardly able to walk even with the help of her son; after her adjustment, she left the office on her own two feet, walking next to her  son who was holding her folded up walker. It was at that moment that Dr. Portner knew what he wanted to do with his life.
Dr. Portner graduated from New York Chiropractic College in April 2015 with honors. He quickly opened his own practice, "Portner Chiropractic" and continued teaching physiotherapy, chiropractic technique, and basic sciences at New York Chiropractic College. In August of 2016 he and his wife moved down to Raleigh, North Carolina to be closer to family. They are both excited to be setting down roots and eventually have a family in this wonderful city. In his free time, Dr. Portner enjoys playing board and games, as well as calm nights at home with a good movie, his wife, and their 2 cats.
Erica B. Anderson
Marketing Manager
Erica Anderson was born and raised in Florida. She graduated from the University of Central Florida with a Bachelor of Science in Business Administration with a concentration in Marketing. Erica uses her business knowledge and marketing expertise to assist Anderson Chiropractic Center as the marketing manager.
She is currently serving the Triangle Area at her real estate firm, Team Anderson Realty. With a family having over 30 years of real estate knowledge and expertise Erica knows the market well and serves her clients with exceptional customer service. To find out more about Erica or to use her for any of your real estate needs go to: www.TeamAndersonRealty.com
Stephanie A. Kinser
Office Manager, Chiropractic Assistant (CCA)
Anie Kinser grew up in Las Vegas, Nevada. She studied Animal Science in college and is a lover of all animals. Anie, her husband Craig and her two sons moved to North Carolina in 2006 to be closer to Craig's family. After their two boys started preschool, Anie took classes for early childhood education and became a teacher assistant. She worked at Penny Road Elementary for a few years and then became a substitute teacher for Wake County before finding her new home with Anderson Chiropractic Center. Her passion for Chiropractic and helping people brings an extra dimension to the practice that patients love. Most of her free time is filled spending time with her family, although she does enjoy many different crafting projects including painting, sewing and making jewelry.
Christina A. Ayers-Klose
Front Desk Manager, Chiropractic Assistant (CCA)
Christina was born in Mountain View, California. She relocated to the Holly Springs area where she lives with her husband and three children. Christina completed two Bachelor of Science degrees from Liberty University in 2016. The first for Psychology and the second for Psychology with a minor in Christian Counseling. She is now working towards her Master of Arts in Addictions Counseling at Liberty University and has maintained a position on the Dean's list. She is excited to bring her passion for working with people to Anderson Chiropractic Center. In her free time, Christina enjoys outdoor activities such as hiking, kayaking, gardening, traveling, spending time at the beach and most of all spending quality time with her husband and children.
Hayley Kelly
Licensed Massage & Bodywork Therapist (LMBT)
Hayley grew up in Sanford, NC. She now resides in Cary, NC with her husband, Pat and their fur babies; two Great Pyrenees, Kai and Brady, and their two cats, Lady and Oscar.
Hayley graduated from East Carolina University with a Bachelor of Science in Business Administration. A few months after graduating, she started the massage therapy program at Body Therapy Institute in Siler City, NC and graduated the following year. Hayley has been a licensed massage and bodywork therapist since October 2011. The majority of her therapy work includes preventative, post-injury or post-surgery, and sports massage therapy.
Douglas Pekera
Licensed Massage & Bodywork Therapist (LMBT)
Douglas Pekera has been a licensed massage therapist since December 2010 after graduating from the European Massage School in Raleigh. He grew up in Upstate New York; however, he and his wife and daughter have made Holly Springs their home since February 2010. As an avid sportsman, Doug understands the stress one can inflict on the body as a result of an active lifestyle and has expertise in several modalities including Swedish, Sports, Trigger Point and Deep Tissue massage therapy. In 2014, he was chosen to provide massage therapy as part of the 2014 U.S. Open Wellness Team at the U.S. Open Men's Golf Championship at Pinehurst.