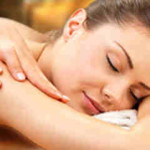 Anderson Chiropractic Center is happy to offer state-of-the-art massage therapy.  Receive a professional, customized massage from Amanda Lunn, our nationally certified massage therapist.  Your health and wellness are important to us as we understand the significance of achieving a healthier and more balanced lifestyle.  Make massage part of your wellness routine at our convenient Holly Springs location or give someone the gift of health with a gift certificate for massage today.
The benefits of massage therapy are many. Massage Therapy can help with all of the following:
Alleviate pain and discomfort
Relieve muscular spasms and tension
Raise immune efficiency, improve circulation
Receive emotional reassurance and stress reduction
Enhance muscle tone
Prevent muscular atrophy
Increase joint flexibility and range of motion
Amanda is a consummate professional who lives right here in Holly Springs. She offers a variety of massage modalities and enhancements to help make your massage experience top notch.  Whether you are looking for a Swedish massage, deep tissue massage, Thai massage, pregnancy massage, myokinesthetic session, or reflexology session, Amanda at Anderson Chiropractic Center in Holly Springs has you covered. She also offers decadent foot and back scrubs as well as aromatherapy and enhanced sessions with biofreeze.
Achieving a balanced lifestyle can be hard, but we are here to help.  Call Anderson Chiropractic Center now at (919) 552-0751 to schedule your massage today.  Same day appointments are usually available with our professional staff.